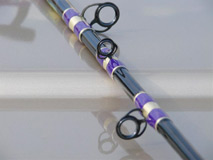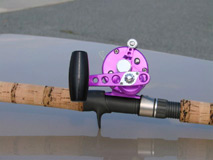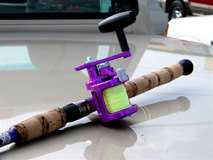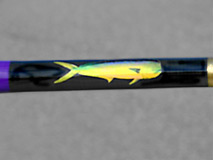 ---
Quality
The individual interested in a custom fishing rod is not always sure of exactly what he or she wants. To that end I would like to offer some guidelines that should help in picking the various options available to you. Of course these are only a few of the choices you have, but should serve to help you "guesstimate" what your rod might cost. From there we can get more specific and find the actual cost of your custom rod. Estimates do not include any applicable taxes or shipping charges.
Before you go to the list of various rod types and the estimated cost, you need to consider the characteristics of a good quality, better quality and best quality rod. Then you can choose what is right for you. To help understand the differences please consider the information below.
Good Quality: These rods typically have EVA foam grips, graphite or metal reel seats and Hardloy guides. Thread options are limited to two colors, including a decorative diamond or chevron butt wrap. A custom made for your name inscription is included. Blanks used are good quality made by such manufacturers as All Star, Rainshadow and others.
Better Quality: These rods typically have single color corks grips where applicable, or slick butt grips on trolling rods. Reel seats are graphite for light tackle rods and metal in most cases for heavier rods. Guides are hardloy or roller, depending on the style of rod. Thread options include up to three colors and a creative decorative butt wrap. A custom made for your name inscription is included. Blanks used are better quality made by such manufacturers as Seeker, Lamiglass and others.
Best Quality: Only the finest will do for this category. Cork grip rods have interesting patterns of plain cork and exotic burl cork to create a unique appearance only available to the custom rod buyer. Rods requiring heavier grips receive Aftco or Stuart aluminum uni-butts and EVA fore grips, or metal gimbal, slick butt, two tone metal reel seat and EVA fore grip. Guides are SIC ring guides by Fuji or roller guides by Winthrop Tool, Aftco and Stuart. Thread options are unlimited and will be designed to match the color scheme you have in mind. Blanks used in the best quality category include G-Loomis, Seeker, Calstar and more.
---