Custom Fishing Rods by Rod-Man
Why you deserve a custom built fishing rod...
I have been building custom fishing rods since 1984. I am a member of RodCrafters of America. I have built every rod type from fly rods to ultra-lite spinning rods to bluewater marlin rods.
Why pay extra $$$ for a custom made fishing rod? It's pretty, but will it catch more fish? These are common questions from fisherman who will spend thousands on the latest boat and state of the art electronics, but will shy away from a superior quality fishing rod. While factory rods are mostly good, they are made for the average fisherman, the average fishing situation, and the average fishing experience.
Every rod has several components. Factory rods are made for "every angler", while a custom rod is designed for an individual, considering his physical dimensions, type of fishing, reel and line choices and any cosmetic preferences.
Visit Rod-Man's new Build Your Own Custom Fishing Rod page for information on classes.
---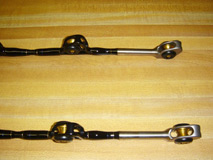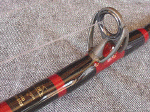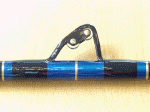 ---
April 19, 2012
Rick,
Regarding the new GLX you made for me, awesome as usual! Busted the snook last night with the new stick.
Eddie
Rick-

Just a quick note. I thought you might want to know...

We have been using the (6) 50 lb rods for 7-8 years and (6) 80 lb rods for 5-6 years now and are still thrilled. I have yet to see or use a rod that I liked better. They look as good now as they did when you built them. The Fuji and aft guides are awesome and have not given us one single problem. Thanks again.

Regards,

Scott Toomer
"Thunder"
---
Components:
The Blank: The best blanks are sold for custom rod building. They are made from resin impregnated cloth wrapped around a mandrel, then cooled, whereby the mandrel is removed and the blank is precision sanded and a protective finish is applied. Then the blanks are graded with the best "saved" for the custom rod builder.
The Spine: This is the strongest side of a blank and is found through a series of stress tests performed by the custom rod maker. The result is that the fish gets to fight the strongest part of the rod. Makes sense doesn't it? Factory rods are mass produced with little if any attention to the spine. How many of you have broken a factory rod while casting or fighting a nice fish? In 23 years I have had only 3 rods break!
The Grips: Hand shaped cork is hard to find, but for light tackle situations nothing else is better. EVA foam works well on blue water rods, particularly if it is shaped to fit the fisherman's hand. Regardless of material grips needs to be the right length and shaped properly. Only a custom rod maker will do this.
The Reel Seat: Only quality will work here. The right size for the hand and the right material for the situation are essential to overall fishing enjoyment. Graphite, wood, cork, or metal-the choice is yours.
The Guides: Guides are possibly the most important component of any rod. They guide the fishing line along the rod for casting and for fish fighting. There are several different types of guides: roller, stainless steel, ceramic, titanium, and silicon carbide (SIC). I use only roller guides on heavy-duty offshore trolling rods and only SIC and Hardloy ringed guides on all other applications. These guides provide better heat dissipation, anti-corrosion quality, and ruggedness. To insure maximum casting and fish fighting ability, guide placement on all custom rods is critical. Custom rod builders use static stress tests and trial casting tests to determine proper placement.
The Cosmetics: Your favorite colors of thread and your name on a rod or a set of matching rods adds a truly "custom" touch to any custom fishing rod.
So, to answer my original questions, yes-custom quality is worth the difference. As a matter of fact I believe it so much that "custom quality is worth the difference" is my company slogan. And, yes you will catch more fish! Why? - Quite simply because your confidence in your equipment and ability will be higher and will translate in to making you a better fisherman.
Tight Lines
Captain Rick Bennett